Marks and Spencer have launched a new dedicated baby section. It just so happens that quite a few of my friends are pregnant or have recently had babies, so this is a great place for them to check out and for you guys too. In honour of the new section they asked me, a mum of two girls –  what's in your bag? So here's it is:
My make up bag, sunglasses, diary, phone, purse and of course a camera – usually the one I was taking this picture with though. I try and stay a bit minimal and only go out with my absolute essentials.
Hahahaha. Who the heck am I kidding??? If that was all that was in my bag it would be a hallelujah moment for sure. I don't think the insides of my bag have ever looked like this.
Here's what REALLY in bag!
The picture above reminds me a tiny bit of Tracey Emin's – My bed, although not nearly half as exciting.
Thats' not my kitten book (a distraction tactic), a puzzle piece (no idea where the rest of the puzzle is, but one piece of a puzzle definitely comes in handy now and again), Myth Mac lipstick (always), a battered old cheque book (yes I still use cheques occasionally), my camera instructions manual, my diary, a bit of old (and probably dirty) tissue, various receipts, a car charger for an unknown object, Not That Kind Of Girl by Lena Dunham (unread of course), sunglasses, 50 SPF face cream (trying to avoid any more wrinkles), my purse (with no money in, only cards – like the Queen), an oyster card, an alarm thingy, toe nail clippers (no idea), chewing gum, and a couple of toy trinkets my girls undoubtedly ask me to keep as safe as possible until we got home about 3 months ago. Oh and a clippy things from Ikea to keep the contents of half eaten packets fresh.  And an untold amount of crumbs.
So here you have it, that's what's in my bag.
Here's some striped items from the new section that I think all you new or pregnant mamas will love, and a gorgeous bag to fill with a load of crap essentials like mine: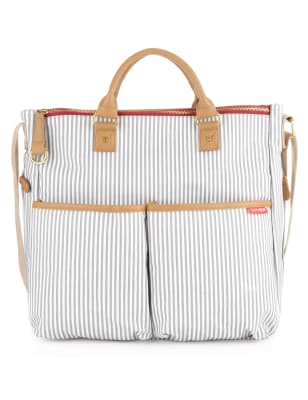 What's in your bag? Care to share over on Instagram?
Nat x
N.B I was offered a voucher in return for this post.